---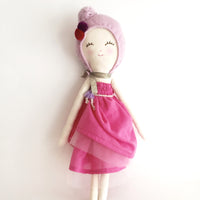 PINKIE  is one of the Twin Sisters.  She is wearing a beautiful couture style dress. Her hair is made with cashmere up cycled sweater.  She's available in 21 inches and 17 inches.  
The picture below is in 21 inches
STORY   The Twin Sisters love to travel all over the world and explore different cultures. Their dream is to become a fashion designer. 
________________________________________________________
MADE IN NYC  Our Twin Sisters Doll Collections are made with natural fabrics and up-cycled cashmere sweater for the hair. Made with the most fine materials, carefully selected and sourced fabrics.  All made in NYC and designed to share love, faith and dream.