---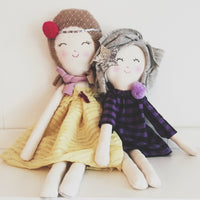 SOPHIE  The Twin Sisters Collection is on the left wearing a beautiful cotton lemon yellow couture dress. She's wearing sequins pompom net headband and pink scarf to finish her look. She's available in 21 inches.  
PINKIE  The Twin Sisters Collection is on the right, wearing fall/winter must have cotton flannel smock dress with pompom.  She's finishing her look with a beautiful star glitter hairpin. 
STORY   The Twin Sisters love to travel all over the world and explore different cultures. Their dream is to become a fashion designer. 
MADE IN NYC  Our Twin Sisters Doll Collections are made with natural fabrics and up-cycled cashmere sweater/soft merino wool for the hair. Made with the most fine materials, carefully selected and sourced fabrics.  All made in NYC and designed to share love, faith and dream. 
SHIPPING & POLICY   Each doll is cut to order.  Please allow up to 2 weeks for shipment.  Cancellations must be made within 24 hours of original order.  Free shipping in the USA via USPS.   Flat rate shipping fee of $5.00 for international order via USPS international.  We ship all over the world.